In between waging a losing battle with Virgin Trains I had a fantastically random and laugh-until-your-stomach hurts few days.
On Friday night
Nik
and I went to see
The Reduced Shakespeare Company
. I've seen the show before, but I'd forgotten just how hilarious the audience participation bit is. Whether anyone other than Nik and I thought the 'Shakespeare's heroines don't vomit when they die' bit was funny by the sixty second time that one of us had gone 'bleuurrgghh' is another matter entirely. Bleuurrgghh. No, it's still not old. I also met
Billygean
for the first time and it was lovely to be able to put a person to the blog. And discover another
Dermot-holding-baby
fan.
At a minute past midnight, I started to recognise that in my pre-finals state on Tuesday morning I hadn't considered all of the implications of buying Nik a disney princess drum for her birthday. I think I may owe apologies to a lot of people over the next few days.
Saturday night, a fairly painless train ride and some alcohol later, Alix, Cat, Gayle, Nik, Val and myself found ourselves in what I now consider to be possibly the best place in the world, the
Evil Eye
in York. I'd been mightily impressed last time I'd visited, not least because of the mind boggling amount of vodka, but that was before I'd ventured upstairs. Saturday yeilded the revelation that they have beds. A cocktail bar. With beds. Just how amazing is that?
Note the 'no smoking in bed' sign. Fill in your own punchline.
Obviously gaining possession of one of the beds, especially when alcohol was close at hand, was far to much for all involved. Consider the above photo to be before the chaos truly descended. A little later there was no hope for all involved: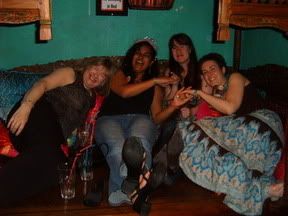 We did break away from the bed for food and cocktails at Oscars, but afterwards we returned, again stamping our possession on one of the beds. The only oddity this time was that the tv in the corner of the bed was pretty much showing porn. And not attractive porn at that. Far too many piercings for my liking. We did, however, bump into a lookey-likey of immense hilarity: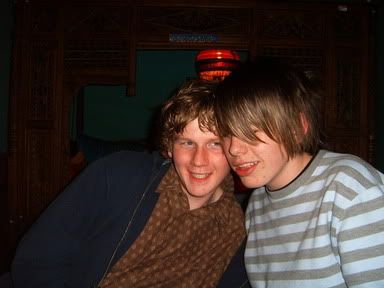 Danny McFly
eat your heart out.
By the time that a slightly strange barman came round offering tequila for a pound, we were already involved in a sing off with the bed across from us. Given our extensive knowledge of musical numbers they never really had a chance. Whether the bar staff had been taking the tequila themselves or whether our singing had rendered them incapable of coherent thought remains unclear but their policy on change meant that they ended up paying us to drink tequila. Now, that's the kind of service that I like.
The only sad point was that, having been traditionally asked to leave at chucking out time, when we waltzed up to the fountain in Parliament street, it had been turned off. On Nik's birthday last year we spent what seemed like an hour in the fountain. I fell over, breaking my leg and cheekbone in the process. This year there was no chance of such excitement. On the more positive side as we surrounded the fountain, pounding out a couple of Griffin songs for good measure, we were joined by a couple of men in tuxedoes. Last year we ended up with a spectacularly drunk guy who thought it amusing to show us much more of him than any of us would have wished. Thankfully this year the tux men kept their clothing on. One of them, for no clear reason, did sneak into a picture: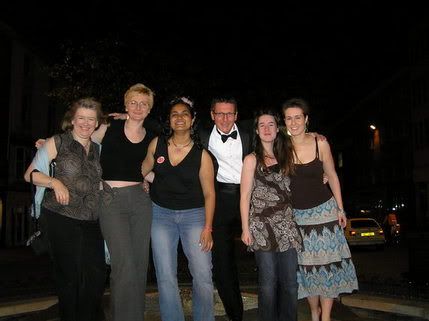 Fountain over, the traditional trip to the Little Griffin Van occurred, just so that we could get the guy to take a picture of us. Not that we're obsessive about having our faces on the front of a kebab van, of course. Aherm. I also felt it necessary to test out a nearby pole, just in case the McDonalds career doesn't work out.
Post a few hours sleep, we 'did' brunch at the
Living Room
, where I have to return if only to have 'the Dude' cocktail. The Living Room is basically a place where wearing sunglasses inside seems perfectly normal. How could the diva in me not love it?
On Monday, Nik and I having managed to drop enough hints most of which weren't even vaguely subtle, Val drove us out to Whitby where we had fish and chips in the pub that had put up a 'No Groups' sign after the whitby weekend last year when we got hyper and sang 'He's coming home, Grif-fin's coming home'. We were marginally better behaved this time, though we did magically gain an ash tray. We also encountered children building what appeared to be a pagan shrine on the beach and a fluffy dolphin which was, apparently, a 'chav'. Nik and I managed to wet ourselves when Val was given a 'pity prize' from the men doing the charity tombola because she'd spent so much money on it and only won a glitter egg.
After whippy ice cream and climbing up the 199 steps we made our way back to York, singing along to the strains of Fox's Cardiff gig. Which is, I'm sure you'll agree, exactly the way to spend a Bank Holiday Monday.