(Is this the way to) Whitby?
When I was twelve or thirteen my tutor group, under some notion of a bonding exercise, were made to sit in a circle with a little tub in the middle of us. In that tub - and it may not have been a tub as I can't quite remember, but we'll go with a tub - were various descriptions. These descriptions were to be picked out - first person to do so chosen at random - and then had to be attributed, with reasoning, to someone in the group. Now there are lots of labels that you'd think I might get. But there wasn't even a whiff of fashion guru heading in my direction*. Or indeed most studious. And even if there had have been a 'most likely to end up stalking minor popstars' I'm convinced that I wouldn't have gotten that either**. No. What I ended up with was 'most likely to try anything once'. I was a little shocked, visions of me snorting the gross product of a third world nation up my nose immediately springing to mind and being distinctly unappealing. Given that I was one of the few who wasn't sneaking off behind the technology block at break time for an illegal cigarette I found this rather odd. But if they weren't exactly right then maybe it was more about a general spirit. That, if I think about it, there are lots and lots of things that I'd like to do before I end up arguing with Sir Philip Sidney in a taxi rank. So, maybe, it was more about aspirations than dancing naked in Ibiza.
But the fact remains that there are still lots of things that I haven't even tried once. And, with some skill and undoubtedly some good luck, I managed to get to 21 without ever having been camping. And that includes pretend camping in someone's garden. For all 21 years of my life it had never bothered me that I hadn't been camping. I don't think I'd even thought about this gaping hole in my outdoor life. All that changed rather radically a year ago today. For what remains the first - and so far only time - I ended up in a muddy campsite in Whitby sitting on a tent as the wind attempted to blow it away from the group attempting to assemble it. It was, I can safely say, a baptism of fire. And then some.
Some time during the winter it had been mooted that a trip to Whitby over May Bank holiday weekend, with a nod to what would be Griffin's half birthday***, might be something fun to do. I'd immediately agreed. When the possibility of camping had been suggested I'd been more cautious. With arguments to cost and practicality all shouting loudly towards a campsite I'd nodded my head in agreement and accepted the fact that I was going to lose my camping cherry. What I probably hadn't factored on was how cold and muddy the reality of camping in Whitby at the beginning of May was going to be. When we arrived at our campsite of choice it was closed due to flooding. That was the amount of rain that had fallen in the 24 hours prior to our arrival. Five minutes later we were at the next campsite and starting to set up - strangely being confused by the level of mud. With the rain, the wind and the mud (did I mention the rain?) it took us the best part of the afternoon to put up everyone's tents. But, were we proud of our efforts: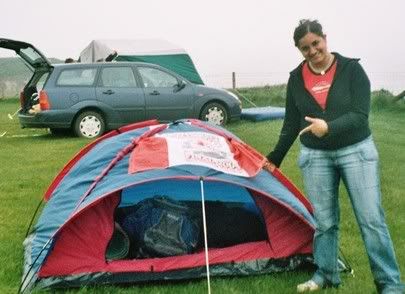 That would be the tent we affectionately name Little Alistair****. And that would also be a doctored Middlesbrough flag on it. If you look at the top you'll also notice that it's missing a piece of covering to stop the rain getting in. We didn't notice that until we'd come back from the pub, past kicking out time and slightly tipsy, to be confronted by the fact that Little Alistair had flooded. And because there is nothing to do in these situations but laugh, I laughed. So much that for about five minutes I couldn't stand upright. The result? We turned Little Alistair into the bar. Well, it works for us.

The next couple of days were spent doing numerous things that still make me want to ache with laughter. By the Saturday afternoon even the weather seemed to have cleared up - though you still needed to roll your trousers up on the campsite - and we ended up on the beach, posing for Grattan catalogue pictures and me refusing the invitation to paddle in just my 'bring it on' knickers. On the Saturday evening, after a barbecue and vodka, we ended up the campsite club. We'd been expecting 'Name That Tune' - well you know I like a good quiz - but instead were presented with Peter La Scala. No, I'd never heard of him either. But if the club house with its gold lame curtains and heating provided anything it was the opportunity to drink without fearing for your nose falling off. I also had another first at this point - I got ID'd at the bar. Clearly the trauma of the cold had taken years off of me. Around the table, very loud and very giggly we had a night that may live on in legend. We wrote Griffin and Fox postcards. And it should be noted that at this point none of us really knew Fox. I'm surprised that he didn't get a restraining order the moment that he received the postcard. We danced to Abba and got the DJ to play Griffin. Needless to say they thought we were a bit odd.

After the club had closed and we'd had a chance to play in the deserted children's playground we decided that a trip to the beach was in order. Only we wanted a short cut. Cue us being led down the side of a cliff by Ali. And Ali's good at a lot of things, principally it would seem leading people to their deaths. When she reached part of the path that had given way her response was to raise her arm in the air and shout 'We have a problem!'. Clearly my survival instinct had kicked in and I decided that I didn't really want to feature in a future episode of '999- the ultimate rescues' so up we went again. When we finally got down to the beach we ended up singing songs - and talking about pile cream - around what is generally accepted to be the most rubbish campfire in the history of campfires.

The next morning we awoke to the heatwave that Cat had been forecasting the entire time we were there. And we made our pilgrimage to one of Griffin's professed loves - Arnold Palmer's Crazy Golf Course. And we even had a cake: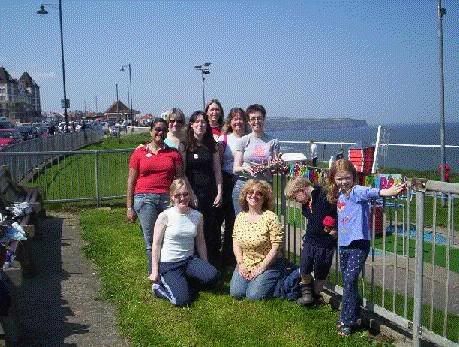 I also managed to prove that crazy golf is not one of my lifeskills. I ended up getting my ball stuck under the windmill that you can see in the picture, and when your ball gets stuck under it there is only one way to get it out. That'll be me laying flat out on the green snookering my golf ball***** then.
I did, however, manage to redeem myself slightly on the nearby canoes. Ali, Nik and I chose them because we thought that they'd get us less wet that the bumper boats. We were, predictably, very
very
wrong and I spent most of the day with a wet bum to prove it. But we did look like Charlie's Angels: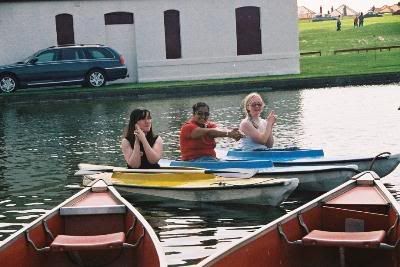 So all was right with the world.

Obviously this year I'm spending May Bank Holiday weekend in a slightly dryer, less drunken manner. With added Chaucer.

Erm, how long would it take me to get to Whitby?

*To be fair I wouldn't have given myself that label either. 12-16 was my experimentation phase. Otherwise known as the wilderness years.

**There was a girl in my class who not only dyed her hair odd colours she also used to occasionally go and stand outside Radio Aire when certain popstars came. And I didn't do that until I was 20.

***Sad or sweet. I'll let you decide.

****Courtesy of Claudia Winkleman, from her comment on Griffin's face when he saw the naked pictures of Rachel Hunter on live television.

*****'snookering' copyright Griffin. I suspect I may not have been the only one to have had that problem.