You Know They're Going To Want This For A Movie
It's odd how some events - intense at the time - slip away in a haze almost as soon as they've finished whilst others cling to you, refusing to let go. The Griffin experience - the
fan
experience - is made up of a combination of both. There are some gigs I went to, some things that I did that - without the aid of my copiously written 'reports' - I struggle to recall. There are equally others where I can't believe that it wasn't yesterday when the event took place so ingrained are they. When I posted up some reports for my mini google season last summer I mentioned that there were two reports that were missing and now I sense that it's time to deal with one of them. One of the memories that refuses to go away, memories that will undoubtedly still make me giggle when I'm pushing 100. In other words? The institution that is the Radio Tour.
Radio Tours usually consist of an artist - with a single or album out - traversing the country appearing on local radio stations, playing sets for Radio people and generally trying to charm the pants off everyone in a bid to make them play their record. Obviously, given my lack of records or albums, I've never had to do this myself. But Griffin has. Just over a week after I first met Griffin - not to mention my travelling companions - I ended up making my way with Cat and Ali by train, car and people carrier from Liverpool to Leeds to Newcastle on our radio station treble. It was the day that, on a bumpy train to Liverpool, we christened ourselves the Northern Division. It was also the day when we properly met Steeeve, Griffin started to wonder how we managed to get to everything and Bring It On was confirmed as being number one on the Box Music Channel. And the day that we got proper hugs from Griffin. And when I say proper hugs I mean hugs that were offered by him not demanded by us. And in fan terms, let me tell you, that's a pretty huge thing. I'm not sure exactly why we decided to complete this manic tour, especially so early in the story, but each of us felt that we needed to show our support for Griffin, to show him some of the stuff he'd been isolated from whilst locked away in the tortous-reality-tv-show. And, with its pro-plus and monster munch, it worked.
So when the radio tour for 'You & Me [tonight]' was announced we were itching to get on the road. Only this time it wasn't one day of radio stations. Oh no. This was a full three days encompassing thirteen different stations type tour. Forget the treble. Once we'd planned the logistics that would allow us to go (deep breath) from
Newcastle
to
Stockton
to
Century
in Manchester to
Key 103
in Manchester to
Blackpool
to
Warrington
to
Century
in Nottingham to
BBC Nottingham
to
Birmingham
there was even more reason to get excited. On the Saturday before the tour started Fox got selected in MYMU to represent us at Eurovision (Griffin naturally in the audience cheering him along), on the Sunday Boro - with Griffin watching in Cardiff - won the Carling Cup before Griffin rocked, erm, Butlins that evening*. There were two weeks to single release, it was heady stuff. And we were about to embark on one of the greatest adventures of the entire story.
It started with a ridiculously early start in Boro, complete with some homemade Northern Division flags and bottle gift bags containing leeks, before taking a train up to Newcastle where Cat, Nik and I were met by Alix. Then on to the first radio station which was situated on what appeared to be a one way road. Naturally we waited outside the wrong entrance, Griffin's plugger drove illegally up the street and we would have missed Griffin's arrival entirely were it not for the fact that he stopped and whistled at us to get our attention. When we gave him the leeks I imagine he wished he'd gone straight in.
Alix drove us on to Stockton (who wouldn't let us use their loos), Val joined us and Shona picked up Budweiser and more bottle bags so that we could scare Griffin into thinking we were giving him even more leeks. There was snow here which proved to be useful to Griffin as we seranaded him with Fox's 'Hold On To Our Love' and he threatened to snowball us. Whilst Griffin was inside we played bull fighting with one of the flags (managing to break it in the process) and Nik built a mini snowman. After finishing in the station Griffin pointed out his video playing on the tv in the reception, inadvertently ended up signing a Newcastle Utd programme and promised to share some of the Budweiser with us.
Now in Val's tank we ended up having what stands as the most hilarious journey in the history of hilarious journies. Because if we were going to Manchester then so was Griffin and his plugger Gavin. And we were obviously going to use the same road. Courtesy of some road works we ended up spending most of the journey in close proximity to Griffin's octavia, he waved more than we did (we were obviously playing it cool) and pointed out helicopters to us before we got all competitive and began writing signs to say that we were beating him. Indeed I think he and Gavin should have hung their heads in shame that they were being beaten by a pink lorry and a car full of girls.
We lost Griffin somewhere on the way to the station meaning that when we arrived (to be greeted by a trail of pink post it notes left by the Manchester Division) we assumed he was already inside. He wasn't. Which led to our deduction that he'd cheated and stopped at Burger King when we hadn't had time to eat. Subsequently when he emerged from the car with a McDonalds meal our first thoughts were to harrang him for such blatent cheating. Whilst Griffin was in the building we had one of our defining moments - the recreation of the You and Me [Tonight] video, performed several times, once at top speed whilst Griffin was in the loo. I still hold my performance as Disinterested Blonde as one of the highlights of my career. Afterwards we all got our pictures taken and ended up appearing in the local press with Griffin, he got more leeks and we stuck post it notes on his car.
At the second Manchester Radio station we had a picnic prepared with much aplomb by the Manchester Division and Griffin's unconscious slipped out when he was supposed to write 'the Northern Division are not mad' and ended up writing instead 'the Northern Division are not bad'. Griffin had to rush this time for a date with Manchester Television and we said our goodbyes, making it pretty overt that this was as far as we were going on the tour.
The mention of Manchester Television, however, brought out the army side of the -erm - army and Willow performed the greatest blag I have ever had the honour of witnessing to find out where filming was taking place. And as it was in central Manchester and we were headed there for food we toddled along to discover the member's only club (complete with certain former members of the Coronation cast inside). We also managed to discover internet access in McDonalds - which freaked me somewhat - before leaving a trail of post it notes for Griffin along the wall near the club and down the street to where we assumed the Octavia would be parked.
After nearly getting stuck in an NCP carpark we made our way to our hastily booked B&B in Blackpool where we were the only guests and the heating clearly hadn't been switched on for at least the last decade. There followed a night of girl band poses by the sea and unsuspecting doubles in what can only be described as an old man pub.
The next morning we were up early to arrive at Wave FM for Griffin's appearance on their breakfast show. Within ten seconds of us getting out the flags we'd been mentioned on the radio. After wondering where everyone else turned up we were soon joined by several members of the army, including G***e who was entrusted with welcoming Griffin to Lancashire (which she achieved by enveloping him in a huge hug). When Griffin did arrive we were greeted with possibly the best quote of the trip - 'what are you doing?'. I think it was a fair question. As Wave FM clearly loved us we got mentioned lots, Cat appeared on air in honour of the "mighty Boro" and Griffin picked Oblivion to be played to us - singing the final 'Here I Go Again' for good measure. Afterwards the presenters came outside to have pictures taken with us and we all appeared on their website and Gavin offered Nik and I the job of chaffeuring Griffin around. Despite the fact that neither of us could drive we accepted. We also got asked if we could get people to turn up to the radio station in Bristol the following day to create a good impression. Could we? Of course we could.
We skipped the next station to go straight to Warrington, where the sun had finally come out and we made a sign to reserve a parking spot for the Octavia which would have worked were it not for the fact that we had to put a reference to us winning the race on it. When Griffin arrived he mock refused to get out of the car, I was dared to yell that he had to and Griffin ended up hiding behind a newspaper. This time the leek story made it on air and - somehow - Griffin reasoned that we'd be screaming at our mentions. When Griffin emerged I got horrified at Val's assertion that it was ok to leave a child in a pushchair alone as they wouldn't go anywhere (!) and we got a little quizzed by Griffin on how we'd managed to leave all the post it notes down the street in Manchester (which we studiously avoiding answering given that it doesn't do for all our techniques to be made public knowledge).
Once we'd said our goodbyes to Val and the tank, Cat, Nik and I ended up on a train ride to Nottingham which - somehow - managed to go via Sheffield. We were still the first to arrive at Century though, and we were informed by the very, very nice people there (who would let us use their loos) that if there weren't too many of us we'd be allowed to come inside and watch Griffin's acoustic performance. Griffin again took an age to get out of the car when he arrived - this time largely due to the fact that Nik and I were pulling mock strict faces at him for not having worked his way through the red folder of stuff we'd given him for entertainment purposes (though he had found - and eaten - the chocolate). Once Griffin had been on air we were invited in and ended up sitting, cross legged like school children, at his feet as he sang some songs. And it was emotional, sweet and rather magical. Magical that is until Gavin started telling people at the radio station about us and our exploits and I had to tell him off.
It was a hop, a skip and a jump down the road to the the BBC - who kindly let all of us camp out in their reception. Griffin got given one of the best presents ever in the shape of a bow and arrow and Nik and I immediately started planning as to how we were going to get our hands on it. We also flashed our BIO knickers for photos and Griffin battled with the formerly traditional 'how many rs does Corinne have' game. This time we didn't even try to pretend that we weren't going to come back the next day, so settled instead for 'see you tomorrows' and singing the words to 'Little Miss Disaster'.
That evening we were so tired that I thought that I might well be drunk but we still had enough about us to get a man chucked out of a bar in central Nottingham and decide that we were going to go and see Fox and give him presents for Griffin**.
The next day it a taxi from Niknak Towers which propelled us to the final stop on the tour for us - Heart FM. By this point we were already a little sad that the journey was coming to an end - and we wouldn't get to see how it turned out in Bristol. Gavin thanked us for being 'part of the team' (even though the smelly leeks were still in the car boot) and Griffin informed us of what it really meant to be shameless and had to concede that Nik and I moving in with him and Fox 'would work'***. After hugs we gave Griffin the ND flag that wasn't damaged - a few weeks later it turned up in a photo in a Sunday magazine of Fox and Griffin's flat with our names visible.
Maybe the reason that those three days - that culminated two years ago today - stick in the mind is because there are so many tangible reminders. Not just the stuff we collected, but the Radio interviews that bear witness to our presence, the press photos, the thank you from the Street Team:
Of course we owe all of you who have been grafting on this already a HUGE thanks and especially a big shout out going to Ali's Army (you know who you are!) who have been following the lucky fellow round his recent local radio dates! A final thanks here to all of those who turned out to meet up with Ali on the dates… I know he was very happy to see you all there.
And, of course, the photo -in its framed and signed version - that lived for a while in the hallway of Fox and Griffin's flat: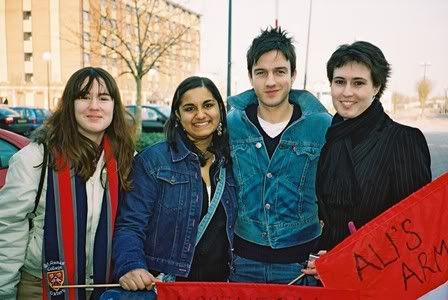 As a marker I feel I should put up the radio tour awards I wrote at the time - so you can, if so inclined, read them
here
.
And if I've felt compelled to write this then it stands as a celebration of everything that trip was about, everything that we laughed at and all of the people involved. I may never embark on anything as frankly insane as that ever again but it doesn't matter. I will always be intensely proud of those few days in March 2004.
*Yes. Rocked and Butlins. In the same sentence. Would I lie to you?
**So we did go see Fox but we liked him too much to just give him presents for Griffin.
***Admittedly that is slightly out of context. But this is my blog. I never claimed to be an impartial witness.