I am unashamedly a city girl. I like big buildings, concrete pavements and the buzz and bustle of life. I do not like mud, wandering cows or scary moors at night. So I'm sure you can imagine that The Lion Inn at Blakey Ridge - which bills itself as "Englands [sic] Remotest Music Venue" - was a prime location for me to go see Griffin. Because if apostrophes haven't reached there then you've also got to wonder about running water.

I put my fears aside and ended up having High Tea with Val in Helmsley. Which largely involved us feeling very smug, eating too much and wondering if we could take a doggy bag (sadly we couldn't and the pieces of cake were bigger than my hand bag). We continued our mini pub crawl - dissecting lots of theatre in the process and starting me on the riccardi and cokes before embarking on the final trek towards the outer reaches of civilisation. Not that I am one to panic but there was nothing on the road in front of us. Just snow on the side of the road. Snow. When it stopped snowing over a week ago. After trundling along in the dark we saw a light on the horizon and started hoping that it wasn't merely a mirage but the venue.

Thankfully it was - though I was very vocal in a city-girl way about the carpark and how dark it was. But the pub itself was rather fab - full of lots of hidden rooms, a roaring fire, cheap alcohol and comfy seats. Soon we'd taken up a corner in one of the little rooms - complete with a little portable tv showing the Boro match. And when we were joined by Cat, Gayle and Shona we settled in for the next few hours with much random conversation. And it was one of those nights where I laughed so much that I thought I'd pulled a muscle in my stomach. I'm not sure exactly what we talked about (though I know it included but was not limited to: stalking John Barrowman, Regency picnics, Gay Best Friends, using the gents, not using the gents when Griffin was in them, the pull of the Northern Division, Fox's Good Luck card, Gayle's bladder, Shona's birthday, Cat and Val's priorities the day I almost-broke my leg and my flexibility) but - let's be clear here - whatever it was it was comedy genius.

Some time after Boro had powered their way to a nil-nil draw we took our cue from Griffin to go to the room where the music was being performed to find it full and rather warm. And then came Griffin's performance. It was a raft of new songs - and new-new songs - and he sung them with the intense belief and passion that seems to be characterising his recent performances. I don't know there's much more I can say about the performance other than that he fucking rocked. And I believed so much in him as I jumped around, arms and legs flailing in all directions, that it actually hurt. I had that feeling that creeps up on me every so often. He has to make it. And somehow, deep down and burried, chipped away with events and reality as it might be, I believe that he will.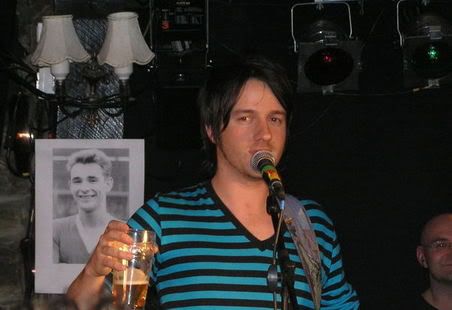 And yet I felt the undercurrent as painfully as I ever have. Because how do I take Griffin's comment that the bank of cameras that greeted him were like the paparazzi? How do I take the urges to bounce and dance which never amount to much? How do I take these on the back of Griffin wanting us to dance at all the band gigs; the almost frustration, which I'm no longer sure is mine or Griffin's, that people don't? I feel these stings, do others? And I want more for him; I want to be covered in sweat, sing myself hoarse, dance like an idiot and live the moment. I want to do all that as Griffin stands on stage and gives that little piece of magic that he's so clearly capable of. Because I've come to understand that - just as theatre is all about the audience - so is a gig. It's a joint performance that feeds off each other. And not just when Griffin forgets the words to 'Semi Charmed Life' and has to listen to us to get his way back into the song.

After the gig had finished - and I'd almost bounced my way to a serious injury - we retreated back to our corner where we were quized by a a nice woman as to who the band who'd just been playing were. There followed another hour or so where we generally put the world to rights (including: what would have happened if Cat followed her urge to crowd surf during the gig, the 'I've Lived' fast or slow debate, dress code for the next Griffin gig [Britpop], how drunk I was, blogging and who exactly Alan Smith is) before we made our ways across the scary moors and back to civilisation.

I suspect that the night will live long in the memory for many reasons. Firstly for the fact that even if Griffin hadn't have been there it would still have been a night bordering on the status of the mythical night we went to the club in Whitby and tried to write a postcard for Fox for how much fun I had. Secondly it's gotten me all excited about Griffin and what he's doing and where he's going. And I am now ridiculously excited about the Boro gig at the end of next month. I'm going to practise my bouncing in preparation.