Amongst Those Dark Satanic Mills
Before I went a bit insane [not to mention slightly screechy] and began taking photos of Alan Rickman's autograph, we'd been out in York in honour of Cat's birthday. Which gave me the opportunity to wear as many of my sale bargains as possible, including my slytherin green* puff ball skirt [75% off in Warehouse which would have officially made it rude to leave it hanging in the shop]. When I say puff ball it should probably be noted that, to quote Gayle, it wasn't "Pepsi and Shirley" puff ball. Because the world does not need that. But it did mean - what with the primark sequins - I was increasingly desperate in the dressing process to make sure I didn't look too over-dressed. Which is difficult for me to achieve, especially when Val greeted the outfit I'd been wearing all day [my black and white homage to Edie Sedgwick**] with 'so you're dressed'. So I had to resort to demanding loudly the use of sparkles on everyone else involved. Val also managed to get Gayle and I tipsy before we'd left her house, though I sadly cannot blame the fact that we screamed when we saw a clip of Griffin on BBC1*** on the pink-fizzy stuff. And to think that we'd been excited when we saw Bazza.
In York, and not at all placated by Gayle informing Becky that I was "wearing a ball dress", we took a leftfield decision and - instead of Evil Eye - made our way to the new Vudu Lounge. Which had lots of room, very nice white russians and made me think that I was a celebrity. Which you undoutedly know isn't that hard to do. Especially when I'm wearing a puff ball skirt. But it remains, Vudu Lounge = Celebrity. And it has a very respectable late license, something which the Evil Eye is sadly lacking [despite the fact that NO ONE LIVES NEAR IT. Not that I am bitter].
Then it was on to the Habbit for more drinks, fabulously home-cooked food and the biggest piece of chocolate cake that I have seen in a very, very long time. It also meant magic tricks, Cat discovering what her wrath in Dublin was about, Val encouraging me to stalk Jason Donovan**** and lots of Fox planning. Plus a keyboard player who took all of our requests, including 'Pianoman'. He also must have been taking requests from other drunken people as we ended up with 'Jerusalem', and I became quite ready to march into battle. And photos: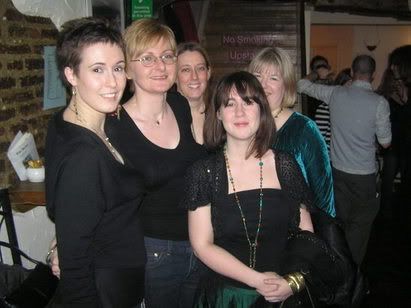 Albeit in post chocolate cake haze. With people trying to hide.
After capping the evening with one of the most hilarious Take That dance routines in the history of Take-That-dance-rountines in the back of Alix's car ['Never Forget', arms aloft, instinctive clapping], it was onwards to Fox songs, musical numbers and my discovering that I'd been sleeping inches from the aforementioned Alan Rickman for the last two years.
*If you understand this, take twenty house points.

**Yes, I know Sienna Boho-Princess is playing her in 'Factory Girl'. I did say that I was obsessed.

***A clip from the tortuous-reality-tv-show to introduce one of his tormentors on the musical programme. Didn't hear Griffin given the screaming, but he was wearing one of the famous three blue jumpers. Which was more than enough for me.

****My first celebrity crush.