I think that as a general rule you grow out of going to Christmas light switch ons somewhere around your early teens. And that's providing that you live in a city large enough to entice a former member of S Club 7. If you're stuck with some local children, Santa and the Mayor then I can't imagine interest lasts beyond the age of eight.
Against that I have to place the fact that I've been to four Christmas Light switch ons in the last two years (none of which, I'd hasten to add have corresponded to either of the cities that I've lived in during that time). Griffin has a lot to answer for what with the cold, fake snow, endless carols and crap radio presenters that this inevitably involves.
Not that I'm someone who usually expects the worst, but I've seen Griffin in the freezing cold far too many times not to. And even though I suspected that as Griffin was on at 2:00 we could rock up around 1:45 and leave around 2:45 I still expected to - politely - freeze my arse off. I even abandoned my cape search and spent the money on a proper winter coat.
So I was somewhat pleasantly surprised to arrive in Scarborough and not have to immediately defrost my fingers. I was even more amused - despite the multiple layers - to have a wander around the shops and then a drink in the local - and oft visited on Griffining trips to Scarborough - Wetherspoons. And because it was clearly one of those days when the God of weather, accidents and wet bottoms smiles down at you, when Val, Gayle and I made our way to the stage area the crowds parted and we ended up in the second row. Albeit with me still scowling about resembling a twelve year old.
Now I should probably establish something here. Sunday was the 60th time that I've been to see Griffin. And of those 60 times my second to bottom experience in terms of fun/pleasantness/and general non-grumpiness (from all involved) would have been the Christmas light switch on in Scarborough the year before. It came on the back of all that placard waving, the big gigs, the high point of York Grand Opera House and - possibly not at all coincidentally - Riccardi giving us lots and lots of free alcohol at a gig a couple of days earlier. Scarborough involved a worryingly protracted trip, it was cold, Griffin had the most wonderful coat on but was singing to the same backing tracks that I'd heard him sing to a year earlier and it ended with my three-quarters yelling "Next time do your own bloody promo!" after him. If there was a ball of feelings there regarding what this switch on symbolised for all concerned, then I also hated Griffin a little for thinking that he could smile at us and make everything ok. And I hated the fact that it would.
Skip forward twelve months and low key has been the watch word. This would be only the second time that I'd see Griffin at something public - the Ilkley gig didn't count as I could, if pressed, have made a stab at the identities of at least 90% of the people there - this year. It was at once intensely familiar and rather odd. And when he stepped on stage I had that odd thrill I hadn't experienced for a while, what with the pubs and tents of the last few months. And because I'm shallow - just how much do I love him with long hair?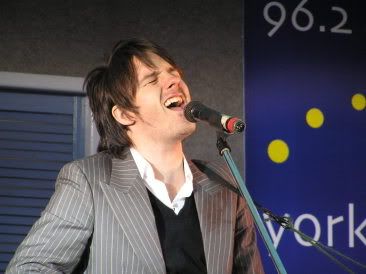 Quite a lot. After the kind of intro that mentally had me recoiling to those BIO roadshow days (and giggling when Griffin proved to be almost as pernicky about the answers to the 'Griffinology test' as we were) it was on to the old standard of WYWG. And I loved it. I loved that, for the first time, we had new backing tracks. Bring It On sounded particularly pingy. I'd been mentally hyperventilating at the prospect of a new song, and in 'Why' - as I tapped my foot and half felt the words - I got more than I could have wanted. Because it showed progress, a slight change as a writer (it's a third person song, something which not many of Griffin's have the honour of being), a widening of subject I rather suspect. And if I'd got grumpy at Griffin the person this time last year, then I'd never stopped believing in him as a writer. Conversely I think I believed in him more, in that respect, than I ever had. If I needed any more proof of belief then it came in Hallelujah; every time I hear Griffin sing this song it gets better. Though not his own, it's perfect for him. And once again I thought that the voice might make me cry.
Afterwards there was a rush round the back, autographs to be signed for the waiting people. And, again, I felt a little odd. I've never been reticent about going and speaking to Griffin. But, ego or not, I didn't want to in this situation. I didn't want an autograph. I didn't want a photo. I didn't want a hastily exchanged sentence. I think, after the past few months, that relationship's been changed forever. I don't think that - however much of a fan you've been - you can switch back after having giggled together about Fox's pants, or his unashamed nosiness, or - I can hear this land like a thump - been treated like an equal. I know I can't. It's not in my genetic make up.
Daddy Griffin clearly a little impatient to leave, Griffin was soon whizzed away. We stayed and talked for a little bit before retiring to the front for some very nice fish and chips. And, in its odd way, I couldn't help but think how perfect the day had been.