"More often than not I don't really understand what I'm writing about. It can be a phrase I hear on the news. A piece of litter floating down the street. It's a feeling. It's an emotion. It's a question. I don't think it's ever an answer". Ben, Act One, Track Seven, The Four Right Chords.

As soon as we stepped into the back room of The Minster* - and when I say back room I mean back room - it was clear that Waggo had played a blinder. Because the no-smoking room, with its empty seats, fire place, book shelves and dominoes was perfect for a couple of drinks and Four Chords first read-through. Such was the general brilliance of the location that it almost made me forgive him for teasing me about sending Griffin in our direction.

Once scripts had been distributed, roles assigned via the complex and hi-tech method of characters written on the back of a bus ticket and placed in my umbrella case and we'd discovered the outdoor toilet it was down to the major business of the day - working out what everyone was going to sue me for.

As it was the threat of legal action was kept to a minimum and the read-through continued through a couple of hours of popstars, not at all gratuitous swearing and jokes about trainers.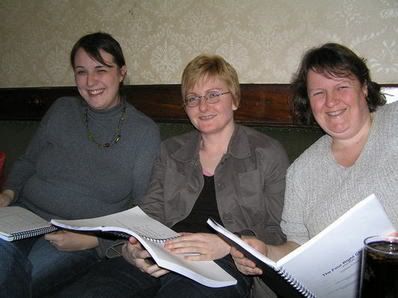 If you're wondering that's Ben (Guitar and lead), Jude (drummer) and Paul (Tour Manager). And if I was pleased that everyone was still speaking to me at the end, then I was also pleased at how well, for a first draft, Four Chords held up. I'm not sure that the first draft of SSoB would have held up as well. If the read through brought out some niggles I'd suspected and confirmed that there are a couple of characters who really need their own storylines, then it also brought out that there's more than just an autobiographical story at its heart. I saw connections, character beginnings, things which I wouldn't have thought would have made their way into the story when it started. And I felt quite pleased that, for all its plot, the play is quite emphatically a character driven one.

I think we're all going to sleep on it a little before I work on the next draft, though I'm itching to do so. After that I suspect that the play will be ready to let out into the world properly. Which is exciting if not a little scary.
And, were that not enough, during the reading it was enquired as to whether any of us were famous. I'll keep them posted.
NB: Courtesy of the nice man at the print shop I've got Four Chords as a PDF file, if anyone would like to read it - all feedback incredibly welcome - email me (distantaggravation at gmail dot com), leave a message, or drop me a pm if you know me in my whooping guise.
*That would be a pub rather than the actual Minster.