"Where are you going?"
"Cheltenham"
"Why?"
"Erm, to see Jesus Christ Superstar".
There's really not an easy way to get round that sentence when you live in Leeds, a good three and a half hours away from Cheltenham. And whilst my viewing of JCS hasn't quite snuck into double figures this year, it's probably more than is generally considered healthy for any one individual. But then when I have I let the numbers game defeat me? Anyway, as I quickly maintained - I was going for the weekend away, I'd never been to Cheltenham and we'd be popping into Stratford on the way back. Stratford means Shakespeare. And Shakespeare legitmises
everything
. And this everything includes repeated viewings of JCS.
As it was the show itself was possibly the most moving I've ever seen it. Quieter, smaller - not least because of the reduced size of the Everyman Theatre compared to where I'd seen it previously - maybe more touching in an ensemble way. Certainly not the flashiest or even the most sparkling but moving in a slightly disconcerting way. Craig Price's Jesus seemed woefully broken from the opening moment and, for the first time, I cried during 'The Last Supper'. That scene's always teetered on being my favourite - Fox's Judas was outstanding in it a couple of times - but on Friday night it was the moment that had me unreservedly. I'm not a fan of the new Giant Peter's voice - my former favourite moment 'Can we start again' between him and Mary now goes for nothing - but he's one of the best actors on the stage. He made himself seem tiny during the last supper, crinkled up with Jesus's robe, which is no mean feat for a man who's about 7 foot tall. And, even though my affection for Fox has coloured my perception of Judas since he left the role, Jon Boyden's Judas really has been pretty outstanding the few times I've seen him.
If, however, I was to give an award it would have to go to Tim Churchill's Pilate. The first time I saw this production of JCS, back in September of last year and I breathed a deep sigh of relief that Fox was actually quite good, a little unsure in places and not quite sure what to do with his hands at times, but overall better than I could ever have hoped, the only other person that I wanted to talk to was Churchill. Val and I rushed over to him telling him that we "really enjoyed [his] performance and we're theatre snobs". On Friday night I think he showed exactly why he's been the most consistently outstanding cast member. During the 39 lashes he was entirely derranged. The intensity of his performance actually made me scared. And that's pretty fantastic when you know exactly what's going to happen, blow by blow.
In many ways it's been a fantastic opportunity to see the production mature over the past ten months. From sitting at home talking to Nik on the phone as she relayed Fox's performance, through seeing Fox for the first time and re-enacting his scene in the middle of the Birmingham hippodrome, whooping for the first time in Manchester, seeing Fox at his best in Oxford and worrying about him horribly, loving the special Christmas charity event and singing loudly in the pub opposite the theatre whilst the cast stood nearby and missing Fox in Liverpool to seeing the Fox and Glenn Carter -less production, with its less starry, more ensemble nature. At no point have I ever thought that this is an outstanding production, there are far too many niggly things that I don't like, not least the cop-out ending, but it's a production that has had outstanding performances within it. And it's matured beautifully. There are still things to see even as it winds down its run. And I'm glad I went to see it - purposely - post Fox. I don't connect it with something knotty and painful in relation to Fox, but as a show in its own right with all the little piece of breath-holding magic which that entails.
Whilst I didn't end up with a JCS boy as Val and Cat had schemed, I think maybe I should conclude my time with JCS with a picture of one of its unsung stars: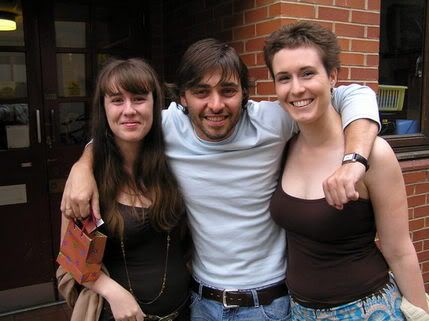 Dom; priest, apostle and general ensemble member. And so lovely that I condone stalking him for the rest of his life. He's a star in Australia y'know. He's even been on Blankety Blank.