So You Wanna Be A Rock Star?
And it had all started so well. Civilised even. Overflowing plates and sangria at Oscars, fairly sane conversation and, because this is me and I can giggle for England at the best of times, quite a bit of giggling. It was when we stood up to leave that I realised that I haven't recovered yet from my finals induced alcohol famine. So much so as I emerged on to York's streets on came the mortarboard hat and gown.
But if I was giggly and rapidly losing the ability to maintain much coherent thought - other than my pressing desire to gain possession of one of the beds in Evil Eye - thins still looked outwardly civilsed. Even when we'd gotten the bed - thankfully to discover that the tv in the corner of it wasn't treating us to the best porn that Men and Motors can offer - things still seemed to befit an almost Oxford Grad ball: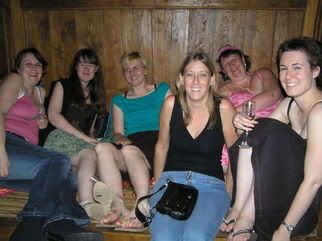 I hadn't thought through the whole drink/bed/short tiered skirt and wedges combination. I'm not graceful when I'm sober, and given that to the sangria I'd added a white russian and champagne by this point, my only response when trying to get into position for this photo was "I'm glad I'm wearing big knickers". Classy.
After tequila and the required Terrorvision moment which tequila necessitates, things started to go progressively down hill. Early on in the evening we'd noticed a guitar next to the bed opposite us - cue shouts of "oh my god, he's got his guitar!" to, erm, no one in particular - and by half nine two wannabe guitar players had emerged. The first of whom could kind of play the guitar, hence the arm waving, out of tune everyone singing 'Wonderwall' moment. And because we really, really need no excuse to sing - despite everything that the last year has done to show that we cannot sing - we managed to get a blast of unaccompanied 'Bring It On' in there. I think it went whoosh over the head of the men around us [who, sadly did not include Danny McFly but did, since Evil Eye is clearly the home of York's lookey likeys, visiting or, did include Dustin Hoffman].
The second wannabe guitar player was more problematic. Mainly because it was me and I cannot play the guitar. Griffin medleys on the recorder yes, arm waving guitar classics no. But the alcohol and the presence of a guitar seemed to connect to my knowledge that - hey I can read music, I know what a semi-quaver is, this guitar lark can't be that hard. And, anyway, I can do band attitude. Despite my almost total lack of vocal talent, I'm lead singer in our fictional girl group. If you're wondering what we sound like - we're a female Busted but with better clothing and regular accoustic sets at the Bedford. Tortured, artistic rock chick I can do. Even when I'm wearing comedy clothing.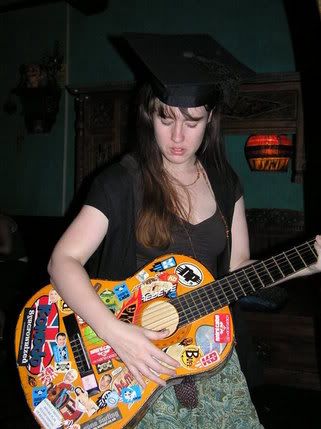 Thus I managed to find myself, at 11:30, opposite the Parliament street fountain - which was spurting to its full extent - with a guitar. Probably the less I say about the mechanics of this the better. Let me say it seemed like a good idea at the time. But I had the guitar and there was no way I was letting go of it. Even when I was in the fountain. Even when we were blasting through Semi Charmed Life.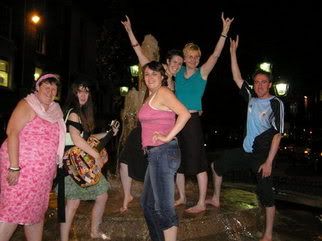 Thankfully I had the foresight to put it down when I ended up racing around the fountain on Dustin's back. Really. And again my skirt seemed a very wrong choice. And because if you want to meet random people the fountain is the best place to go we seemed to meet literally hundreds. I even got asked to play the guitar a couple of times. Thankfully, since I was starting to sober up, I declined and kept everyone's ear drums in working order. And because I am clearly a weirdo magnet I ended up being asked if I wanted to go home with a bearded drunk who was most likely old enough to be my father. When another random started talking about the MA department at York I decided that dressing in something which resembles school uniform is not a good idea. The antics at the fountain were only surpassed when, for the first time ever, we were asked to get out of the fountain by the members of a passing police van. Naturally we sang at them and, rather than arresting us under some public disorder act, they ended up laughing before driving away.
And because we're nothing if not constant in our traditions, a photo at the Little Griffin van was in order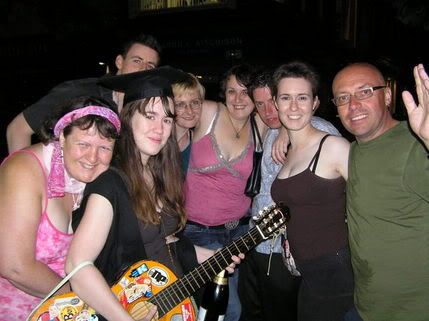 Obviously that's not the actual photo, that one will be soon gracing the front of the Little Griffin van. As for the random men, I'd tell that story but it, aherm, really isn't my place.
And so the group disbanded as the ball came to its end. Soon I was in the taxi queue, again being asked to give a tune while we waited - what is it about having a guitar that people think you can actually play it? Given that I was once again sober and coherent I'm blaming my rolling into the taxi in a specactlarly in-elegant way on my shoes and guitar combo. Look, I don't have that skill yet. I'll have learnt by the time I come rolling out of the Ivy to the assembled press.
As balls go, I think I can safely say that this one will live long in the memory. Now if someone can tell me waht to do with some glasses, a champagne bottle and a guitar I'd be very grateful.