I'm not a stalker. Really.
I know that I promised phlegm, but, really, I don't want to talk about my phlegm. And, undoubtedly, you want to hear about it even less. So we're both agreed, right? No phlegm.
So, with no reference to the phlegm and only a minor nod to the fact that I have taken enough painkillers to make me rattle, I think instead I'm going to blog about a little issue that I have. I can say little now. It used to be huge. But now it's little. Confused? Yes, me too. Welcome to the phlegm club.
Aherm.
But, back to the issue. Reality television. There is, of course, every reason why I should not be someone who is drawn into it. I have a vocabulary which extends beyond expletives for starters. But the fact remains that I clearly carry the reality television gene. I look back fondly on summers of watching the big brother contestants wash up. Of voting for Will. Of laughing at Ant and Dec's banter and Dermot's dancing. Big Brother Four - you know the one won by the guy from Orkney - was loudly condemned as being the dullest series ever. And you know what? I loved it. I even compared it to a modernist novel. The reason I loved it? Because I came to care about what happened to those inside the house. That's where reality television truly holds its pull. Once you get sucked in and begin to care, basically you're buggered. You too find yourself indignant at Nasty Nick's actions. Or Simon Cowell's comments.
But if BB4 proved to be the highpoint of my reality television addiction, then it got taken to a whole new level by the tortuous-reality-television-show of that summer. For the first time I cared so much about people within a reality television show, for here the stakes were so much higher, there were dreams on the line rather than D-list celebrity parties, that it had the power to make me cry. And because I began to care so much it also made me see the flaws in the system. Bias. Manipulation. Editing. Possibly even down right cheating. And as I watched that final, trying hopelessly not to cry, consumed with indignant anger, my reality television bubble burst. Maybe I'd simply expended all the energy I could. But I also know my principles had kicked in. I'd seen what those newspaper columnists had been sprouting first hand.
That was two years ago. I haven't followed or voted on a reality television show since. For the first time ever I didn't watch streaming for Big Brother 5. I watched episodes when I was in, and I still garnered enough knowledge to be able to tell you roughly what went on last year, but it was all strangely distanced. Take it or leave it, almost. Which is something I could never have believed would be my attitude the previous summer. I didn't care. Equally so far this year I've seen the last five minutes of the opening show. I don't even feel any sort of craving to see more.
But if I've got my ethical head on that will forever stop - protect? - me from reality television and anything that has the Endemol logo on it, it doesn't mean that the gene has been removed. Oh no, it's still there. Which is why I find the idea of
Big Blogger
absolutely hilarious. So you won't get to see the participants wandering around in their pants...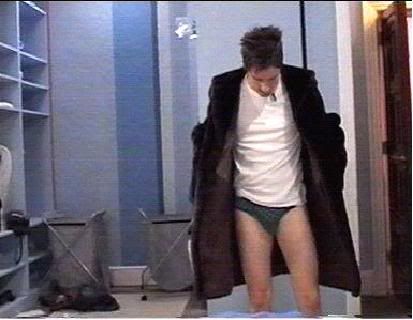 or be able to watch them eat their dinner...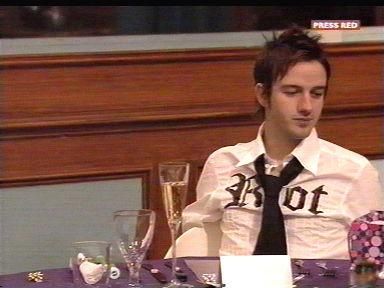 or even see what odd positions they sleep in...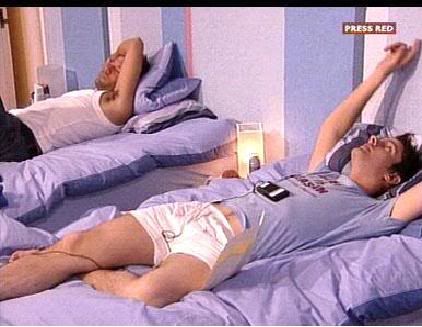 And your voting judgements won't be based on how many amusing jokes they can get out of a bale of hay...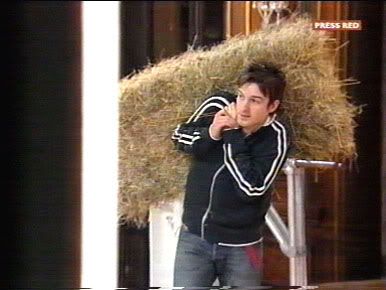 Or how well they play the guitar...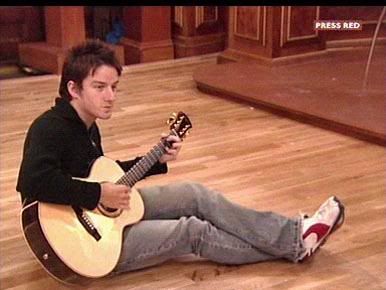 Or have anything to do with their pants...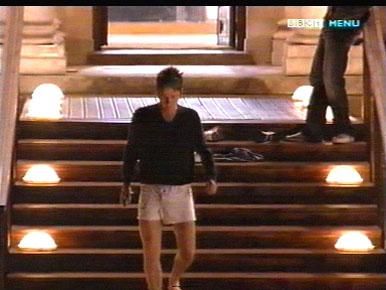 Aherm. But you get the power of deciding who goes and who stays.
Power
.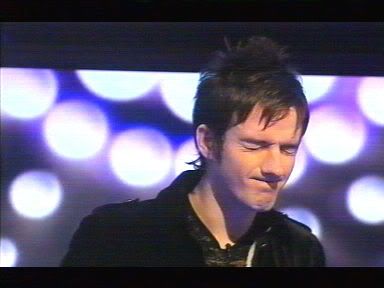 Sorry, I meant you get to enjoy their offerings. You might even like some of them.
Me? I can't wait.