Paint Me On Your Right Hand
Post the final strains of 'Bitter Sweet Symphony' and SSoB's finish, the week continued in something of an equally frantic manner. On Sunday Cat, Nik, Val and I went out to Thame to have Sunday lunch at Robin Gibb's pub. Not that we know if Robin actually does frequent a pub in the village and, even if he does, if we got the right one given that Thame seems to consist of one rather long street which contains approximately one pub every few yards. However the pub we settled on was suitably classy, idiosyncratic and even had a sign outside that had the obvious subtext of 'no chavs in here please'. I'm confident that we found Robin's pub. On Monday I did the Oxford tourist thing with Cat and Val, which included a free trip into Christ Church [see getting into Oxford and having a Bod card does have its advantages when it means that you get to see the steps used in the Harry Potter film for free] and spending rather longer than we should have in the Holy Grail of Bookshops - Blackwells. I also ended up eating out for the fourth time in 48 hours, hence I'm firmly back on the St Anne's award-winning canteen food for the rest of term. Mmmm, cardboard chicken and lumpy mashed potatoes.
Tuesday marked a trip to Narnia, otherwise known as The Bedford. I hadn't seen Fox since he appeared in Jesus Christ Superstar in Oxford back in November and I hadn't seen him perform without the aid of a rope and thirty pieces of silver since August, so I was somewhat excited about seeing him, especially in the realms of the Bedford. And he didn't dissapoint. Indeed Fox was equally as charming as I'd remembered, taking his time before the performance to come and sit and talk with us. I have to say that he's utterly wonderful with his fans and, if that weren't enough, he had a fantastically soft jacket on. It was only when he'd been sitting with us for a few minutes that I realised that I kept touching his arm. Hence I had to swiftly make a mental note to keep my hands to myself, a lesson which I clearly didn't learn in Primary School.
The opening act, a blond female singer brandishing a guiatr did, however, yeild some excitement on my part as midway through her set it clicked that she's been in the band Alisha's Attic during the mid nineties. And I loved Alisha's Attic. They wore odd clothing and made quirky, lyrically interesting music, how could I not love them? She's an angel, but she sins sometimes, Dressed in white, gets drunk on red wine...And I really enjoyed Shelly's set. At the Bedford Christmas Party I'd been really looking forward to seeing the infamous Guy Chambers, co-creator of some of my favourite songs of all time with his new grouping 'The Isis Project'. With Chambers and a name which evokes a river in Oxford I'd expected brilliant things. What I got instead was a set which was largely in French. Which is all well and good if they were actually French. Or in France. But they're not and we're not and instead it struck me as being a tad pretentious. But Shelley didn't fall into the Chambers trap, she was still wearing odd clothing and, possibly more importantly, was still singing in English. Alisha may still rule the world.
Fox's set was utterly charming, I love watching him sing in this manner, in the same way that at the majority of Griffin gigs I've been to I've loved Griffin sing, just because you can tell just how much they want this, just how much they are there in the moment with every particle of their being. You just can't help but get swept up in the momentum of it all. By the end of the set I was distinctly wishing that I had room to get up and dance. It always strikes me as rude not to get up and throw yourself about when someone is really begining to rock. But as there wasn't really room, I had to be contented with contorting myself in my seat. Head bopping is definitely underated. Afterwards Nik, Val and I gave Fox leeks in honour of St David's Day [at least this year it made more sense as Fox is Welsh whereas last year Griffin just had the bad fortune to be seeing us on the 1st of March], which he seemed not at all bemused by. It does worry me that he seems to get our rather odd sense of humour. And because we hadn't seen him for a while there had to be a comedy photoshoot: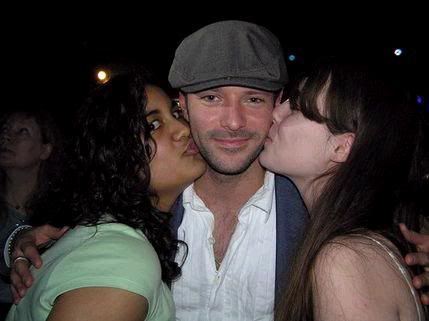 From that picture three things should probably be noted i)Fox must have recently waxed his chest somewhat ii)I'm not exactly sure where my cheekbone seems to have appeared from iii)I'm not actually anaemic, it's just that Fox's skin tone does tend to make me seem transparent. I confess to the fact that we had to take that picture twice as the first one was 'blurred'. It's a hard life...